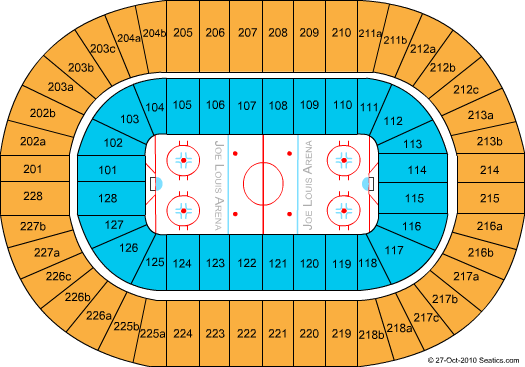 Children's Ticket
Children under the age of two are admitted without charge provided they sit on someone's lap, however, if any child's behavior becomes disruptive, the child and parent(s) may be asked to leave.
Parking and Gate Opening Times
• Gates open one hour prior to the start of a event
• Parking lots open two hours prior to the start of a event
Standing Room
Standing room areas are for those fans holding Standing Room Only tickets. Fans holding tickets for reserved seats locations will not be permitted in standing areas.
Will Call
Will Call is located in the Joe Louis Arena Box Office. Guests may leave tickets at the Will Call window, however, Joe Louis Arena cannot accept responsibility for unclaimed tickets. A picture ID is required to pick up tickets and tickets will only be released to the person whose name appears on the Will Call envelope.
Prohibited Items
Banned items inside the stadium include but are not limited to:
• bottles
• cans
• liquid containers
• coolers
• outside food and beverages
• weapons of any kind
• laser light pointers
• flagpoles
• air horns, and umbrellas.
Warning: "Pucks Entering the Stands"
Please be aware that a puck can be propelled into the spectator area with enough force to cause serious injury. Stay alert at all times in the seating area. If you are injured, please ask the nearest usher for help and directions to the medical station. Red Wings patrons assume all risk and danger incidental to the game of hockey-including specifically, but not exclusively, the danger of being injured by a puck or hockey stick-and agree that Joe Louis Arena, the league its affiliates and employees, the participating clubs, and their agents and players are not liable for injuries from such causes.
Stadium Facts
• Opened December 12, 1979
• Built: 1977-79, completed 19 days ahead of schedule
• Capacity for:
o Hockey – 20,066
o Basketball – 20,153
o Concerts – 21,666
o Ice Shows – 14,416
o Circus – 19,259
• Hockey Ice Surface: 200 feet by 85 feet